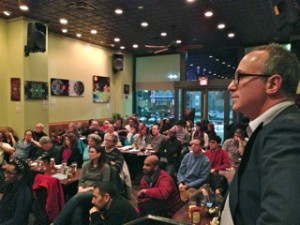 The DC Science Café, founded by Ivan Amato in 2011, provides an opportunity for the public to become directly engaged in open, facilitated, curiosity-driven discussions about the scientific discoveries and technologies that fascinate, enlighten, amuse, befuddle, terrify and otherwise move us. These discussions will cover everything from the origin of the universe to the ethical dilemmas that accompany new reproductive technologies to the magical materials still latent within the Periodic Table of the Chemical Elements.
Our aim is to give the general public an opportunity to participate in lively and important discussions about the consequential scientific discoveries and issues of our times. No science background required!
DC Science Cafés happen roughly every two months at Busboys and Poets' 5th and K St location near downtown Washington, D.C. For more information or to be notified about future events, contact Ivan Amato, founder and facilitator of DC Science Café, at DCScienceCafe@dcswa.org
Upcoming event:
Science on Stage — Comedy, Music, Poetry & More
At a first-of-its-kind DC Science Café event, local performers moved by the scientific narrative of our times will share their songs, poetry, rap, comedy and other favored forms of expression in an on-stage demonstration of just how well art and science go together.
After a series of short, featured performances, the mike will open to members of the audience who have come prepared with their own science-themed pieces to share.
Thursday, April 14, 2016, 6:30  –  8:30 pm
Busboys and Poets @ Takoma
235 Carroll St NW, Washington, DC 20012
Note the special location at the Busboys and Poets restaurant in Takoma Park.
Most recent event:
Three Trillion Trees — a conversation about trees from the global to the hyperlocal
Wednesday, March 2
6:30 — 8:30 p.m.
Busboys & Poets, 5th & K Sts NW, Washington, DC
For each of the 7.2 billion people on the planet, there are hundreds of trees giving us breath, food, shelter, and beauty. Their importance in ecological systems cannot be overstated. Join University of Maryland remote-sensing scientist Matthew Hansen, arborist Earl Eutsler, Deputy Director of DC's Urban Forestry Administration, and science journalist Gabriel Popkin for a discussion of our leafy co-inhabitants of the Earth and the novel threats they face as the human touch on the planet gets ever heavier.
Busboys and Poets, 5th and K St., NW, Washington, DC
www.busboysandpoets.com/about_5th.php
For more information, contact Ivan Amato at DCScienceCafe@dcswa.org