2017 Newsbrief Awards now open!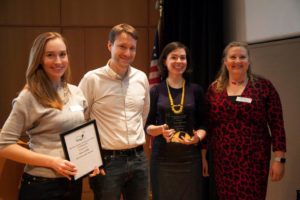 We love longform, but short pieces are the true workhorses of science communication. In the spirit of recognizing these unsung works of excellence, we offer the DCSWA Newsbrief Awards. Since 2009, we've been celebrating achievement in brief science writing and multimedia. Entries for the 2017 Newsbrief Awards are now open!
The deadline to submit an entry is 11:59 p.m. EST on February 1, 2018.
DCSWA accepts entries in two categories: writing (primarily written text), and multimedia (primarily audio, video, photos, infographics, or a combination thereof). Members of DCSWA can enter their own work, or others can nominate it, via the entry form. Entries will be judged by a panel of science writers and media professionals selected by the DCSWA board. The winner in each category will receive a prize of $300. Honorable mention certificates will be awarded at the judging panel's discretion.
For more information about the award and its history, visit the Newsbrief Awards page.