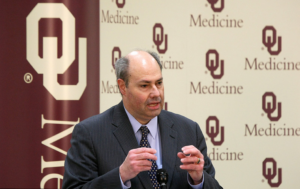 Did you know that blood clots are responsible for one in four deaths worldwide? Or that they cause more deaths in the United States annually than breast cancer, prostate cancer, AIDS and car crashes
combined?
Learn more fascinating facts about blood clots – also known as thrombosis – on September 6, when DCSWA members are invited to sit down with Gary Raskob, PhD, dean of the College of Public Health at the University of Oklahoma Health Sciences Center and one of the nation's leading experts on thrombosis.
Dr. Raskob focuses on the prevention, diagnosis and treatment of deep-vein thrombosis (DVT) and pulmonary embolism (PE); the clinical development of anti-thrombic drugs; clinical trials, prevention research; evidence-based medicine; and the translation of research evidence into practice and health policy.
In the briefing, Dr. Raskob will discuss the fact that thrombosis is often the underlying cause of heart attack, thromboembolic stroke and venous thromboembolism (VTE) – the top three cardiovascular killers – and yet most people don't know much about the condition or how to prevent it. He will also share the results of a new survey showing that global public awareness of atrial fibrillation (AFib), another major contributor to stroke, is low worldwide.
Dr. Raskob can speak to what people need to know about thrombosis, the risk factors, and how to spot the signs and symptoms before it is too late, as well as what hospitals and health systems can do to reduce preventable deaths from the condition.
When: Wednesday, September 6, 6:00-7:30 p.m.
Where: Powell Tate office at 733 10th Street NW, Event Center on 5th Floor, Washington, DC, 20001 (corner of 10th and G Streets, 1/2 block from Metro Center and 1 block from Gallery Place.)
Cost: Free!
Please note: Food and drinks will be served!
Register: Register here.
Questions: email Karen Oliver, koliver@powelltate.com