Science Beats: The party of the decade!
Join DCSWA on Saturday, February 13, 2016, from 7 to 11 p.m., as we host a festive gala for the hundreds of science writers attending the AAAS annual meeting in Washington, D.C.
Shuttles will leave the Marriott Wardman Park starting at 6:30 p.m. Board shuttles at the hotel's lobby entrance and look for the buses label "DCSWA".
The last shuttle will leave the Press Club for the Marriott at 11:30 p.m.
The gala will feature delicious food and drink, music and dancing at the historic National Press Club in downtown D.C. DJs Eric Hand and Nsikan Akpan, both DCSWA members, will provide the beats.
We will provide shuttles from the AAAS meeting venue (the Marriott Wardman Park hotel), but the Press Club is also Metro accessible, located two blocks from the Metro Center stop on the red, blue, orange and silver lines.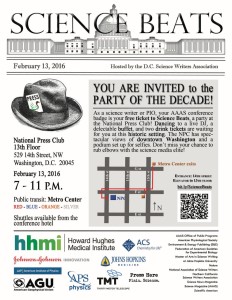 DCSWA members and registered journalists and PIOs attending the meeting are invited to attend free of charge. DCSWA members can bring non-member guests, but there will be a charge of $35 per guest, which you can pay by cash, check or credit card at the door.
For more information, write to president@dcswa.org or sarah.l.schroeder@huskers.unl.edu.
Don't miss the chance to mingle, sip cocktails, and dance with fellow journalists from around the country and around the world!
Party organizing committee
Sarah Schroeder, co-chair, fundraising and volunteer coordination
Sandra McLean, co-chair, venue and logistics
Jana Goldman, themes and decorations
Teresa Shipley, graphic designer
Robin Bisson, Catherine Matacic, Michael Newman, Kasha Patel, Gabe Popkin, Tiffany Stecker, Arvind Suresh
Party sponsors

Ambassador level
Howard Hughes Medical Institute
Diplomat level
American Chemical Society
American Geophysical Union
American Institute of Physics
American Physical Society
Johns Hopkins Medical Institute
Johnson & Johnson
Press Here
Thirty Meter Telescope Corporation
Contributor level
AAAS Office of Public Programs
American Physiological Society
Environment & Energy Publishing
Federation of American Societies for Experimental Biology
Johns Hopkins University Science Writing Program
Missouri School of Journalism
Nature
National Association of Science Writers
Northern California Science Writers Association
Science News
Science
Scientific American