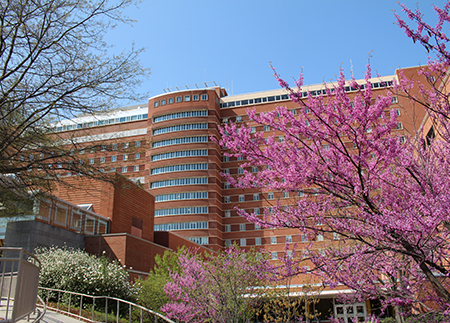 Join DCSWA for an exclusive tour of the NIH's Clinical Center, the world's largest research hospital. Following the tour, researchers from the National Cancer Institute will discuss their work on childhood cancer, new brain tumor therapies, and show off cutting edge imaging techniques that allow scientists to see individual atoms within drug molecules. Read more info here.

Date: Friday, May 19, 2017
Time: Clinical Center tour from 12-1 pm, talks from 1-2 pm
Location: NIH campus in Bethesda, Maryland. (Government ID required for entry). Metro accessible (Medical Center) and validated parking available
Cost: Free!
Lunch is included.
Registration: Register here.
Schedule:
Noon to 1 pm: Tour of NIH's Clinical Center
The NIH Clinical Center is the world's largest dedicated research hospital, located on the NIH campus in Bethesda, Maryland.  27 national institutes share the hospital to conduct clinical trials aimed at seeking cutting edge treatments for patients.
1 – 2 pm: An introduction to CCR and brief presentations by our researchers, with plenty of time for questions and answers. Lunch provided by CCR!
Introduction to the Center for Cancer Research
CCR Deputy Director and Neuro-Oncology Branch Chief Mark Gilbert, M.D.
As NCI's internal cancer center, the CCR utilizes 60 percent of the Clinical Center's resources, with almost 400 open trials for patients with cancer, HIV and rare tumors.
Neuro-Oncology Branch Brain Tumor Clinic
Mark Gilbert, M.D.
Our Brain Tumor Clinic is comprised of a multidisciplinary team of physicians, other healthcare providers, and scientists who are dedicated to developing new therapies and improving outcomes for patients with primary brain and spinal cord tumors.
Senior Investigator Sriram Subramaniam, Ph.D.
Dr. Subramaniam's research team has produced astonishingly detailed images of biological molecules that are considered targets for potential cancer therapies.
He has refined a technique called cryo-electron microscopy (cryo-EM), which produces images detailed enough to reveal individual atoms throughout key regions of a  molecule.  Although  cryo-EM has long been used as a research tool, the increased power of the technique means it now stands to accelerate drug development.
Clinical Director John Glod, M.D.  and Investigator Rosandra Kaplan, M.D.
The Pediatric Oncology Branch is dedicated to improving outcomes for children and young adults with cancer and genetic tumor predisposition syndromes. We conduct translational research that spans basic science to clinical trials. Our clinical studies are performed in an environment that supports our patient's medical and emotional needs, alongside cutting edge scientific research.
Questions? Email president@dcswa.org.