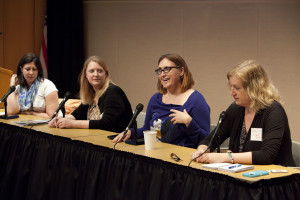 By Mikel Shybut
Newspapers and big-name magazines are notoriously hard to break into. But many smaller or more specialized publications are in constant need of talented science writers, according to panelists at a session during DCSWA's 2016 Professional Development Day.
Lauren Lipuma, public information specialist and writer for the American Geophysical Union, moderated a panel of writers and editors who discussed alternative opportunities for science writers, the importance of freelancing, and strategies for pitching to editors.
Endless opportunities
Sadie Dingfelder, feature writer at the Washington Post Express, encouraged attendees to practice what she calls "stealth science writing" when pitching ideas to big-name non-science magazines.
"Any story can be a science story," she explained. "Any magazine you pitch to, big national magazines or newspapers, if you can think of a way to work science into your story, that's going to make your story better." Dingfelder cited an article she wrote in the travel section of the Washington Post ostensibly about visiting Belize, but actually focused on the invasive species of lionfish plaguing the area.
Alumni magazines
Alumni magazines are another popular market for pitching. "You could pitch the editor about neat research being done at the school, or interesting alumni who are scientists," Dingfelder advised.
Amy Rogers-Nazarov, a journalist who has written for many trade, consumer and alumni publications, noted that alumni magazines also pay well. "In my experience, most of them are $1.00 per word or better," an important benchmark for many writers.
Rogers-Nazarov suggested that any time a writer is interviewing a scientist, "find out where they went to college, find out where they got their graduate degree and start pitching."
Trade publications
Erin Boyle, managing editor and communications manager for the American Society of Radiation Oncology, discussed opportunities in writing for trade publications. These come in two flavors: those associated with professional societies and those that are independent media outlets.
These publications are always on the lookout for freelance science writers, and many are published weekly or monthly, or even daily during their international conferences. The opportunities are plentiful. "If an area of medicine fascinates you, just Google the topic," Boyle suggested for finding related trade publications.
Freelancing for all
Each panelist highly recommended freelancing, even if writers have a full-time job. "It allows you to form a professional identify outside of whatever your current job is," Dingfelder said. "When you freelance you make professional connections that are really important; you expand your portfolio, which is very important; and also you pave your way to getting your next job."
While freelancing, writers should value their time and effort. "Your hourly rate is the only one that matters," Rogers-Nazarov said, advising writers on how to weigh writing opportunities. "You should definitely never be working for free," Dingfelder added, suggesting that those with a regular job can shoot for bigger-name publications such as a Washington Post blog, which may or may not pay well, but are great resume builders.
Time to pitch
When it comes to pitching, strategies may differ depending on the publication. As a trade editor, Boyle requires a résumé and a reason why the writer was suitable for that publication; essentially a writer is pitching him- or herself. She noted that professional societies often have specific stories in mind to assign writers.
For most mainstream publications, by contrast, it's all about pitching the story. Dingfelder advised looking at recent stories and pitching something in the same fashion but that hasn't been covered for at least five years. "The way to craft a successful pitch, I've found, is to practically write the whole story," she suggested, "to do a ton of research, to actually do some interviews, and to basically write the lead of your amazing story and send it directly to the editor."
See all Professional Development Day 2016 session highlights