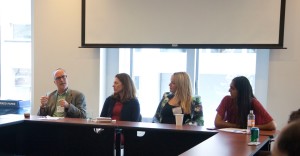 You don't have to make the journey from idea to book alone
By Abree Murch
As writers and communicators, we know that feeling when a story grabs us – that nagging thought that sinks its teeth in and keeps us up at night thinking, "Someone needs to write this." This "crush" on an idea, according to Ross Yoon literary agent Anna Sproul-Latimer, is a great sign that it has commercial book potential and that you should be the one to write it.
Sproul-Latimer was a panelist in the "From Ideas to Books" breakout session at DCSWA's 2016 Professional Development Day. She joined two published authors to speak on the mechanics and hard work of turning a great idea into something publishable and sellable.
Sproul-Latimer cited her experience selling New York Times-bestselling nonfiction to encourage the aspiring authors in the room to make sure they use a good agent who knows how to sharpen an idea into commercial book material. Quoting her colleague Gail Ross, Sproul-Latimer defined a successful book as "a table resting on four legs: a good idea, a good author platform, a good agent and a good book proposal"—the idea being the most important leg. It has to be similar enough to stories that are already written that publishers and readers will recognize it, but different enough that it hasn't been told and there is a clear place for it in the market.
Panelist Kim Stephens related her experience as a first-time author working through the process. "For anyone who's in the Word document stage, it can happen," she said, holding up a copy of her new book, The Prodigy's Cousin: The Family Link Between Autism and Extraordinary Talent. Stephens, a "recovering lawyer," co-authored the book with her mother, and the pair worked with an agent. But she also cited the importance of finding a supportive writing community that has the technical knowledge to advise you. Stephens also cautioned against talking to too many experts during the research phase: "You don't want to lose your own eye, your own voice or your own perspective on a topic."
Unlike Stephens, author and panelist Ivan Amato didn't use an agent, a fact he readily acknowledged may have been a financial mistake. He did, however, leverage his contacts and ideas from his work as a reporter on materials science, which led him to write Stuff: The Things The World Is Made Of and Supervision: A New View of Nature, among others. He has also written organizational histories, and encouraged the audience to explore the places they work as sources of inspiration.
It was apparent from the panelists' collective experience that, while bringing an idea to life is hard work, aspiring authors need not feel as though they have to take on the daunting task alone. The important part, as Stephens put it, is believing in your book. "There are no guarantees. Publishing is a hugely up-and-down industry, and I think knowing what it is you want to accomplish with your book will get you through the process in a healthier way."
See all Professional Development Day 2016 session highlights