Saturday, March 28, 2015
American Geophysical Union headquarters
2000 Florida Ave, NW, Washington, D.C.
See tweets from the @DCSWA Prof Dev Day at #DCSWA15
Read session reports by PDD 2015 scholars
This event was funded in part by an NASW Idea Grant.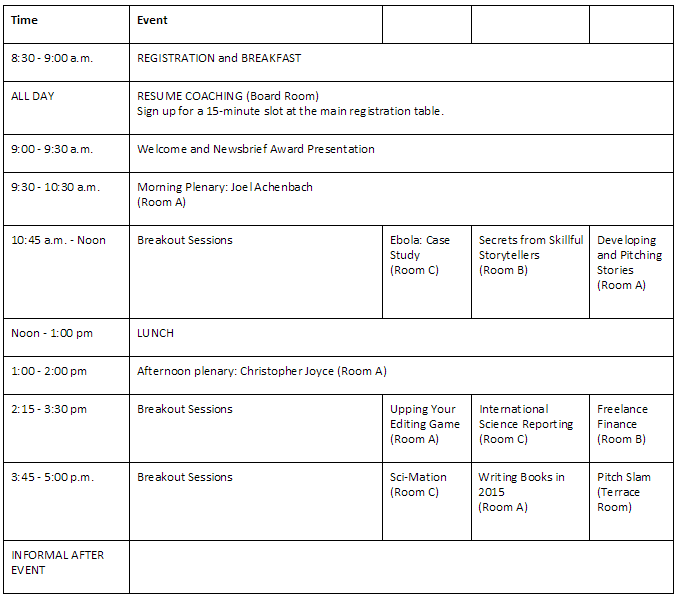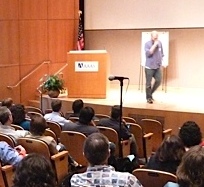 8:30 a.m. – 9:00 a.m. REGISTRATION AND BREAKFAST
All Day RESUME COACHING
Board Room
Sign up for a 15-minute slot with Amy Leighton, "All Resume Writing Service," at the main registration table.
9:00 a.m. – 9:30 a.m. WELCOME AND NEWSBRIEF AWARD PRESENTATION
Room A
Winner: TBA
9:30 a.m. – 10:30 a.m. PLENARY SESSION
Room A
Joel Achenbach, Reporter, Washington Post
"Every science story should be about the meaning of the universe"
10:45 a.m. – Noon BREAKOUT SESSIONS
ROOM A
Developing and pitching stories
You have a killer story, now how do you get it into your dream publication? You pitch! Our panel of editors and freelancers will give brief presentations about their "philosophies" of successful pitching, and will walk through a few model pitches (both good and bad). Panelists will also discuss other aspects of successful pitching, including how to use networking opportunities — like Professional Development Day! — to pre-pitch stories. There will be plenty of time for Q&A. This session is highly recommended for anyone planning to pitch stories at the pitch slam.
Yudhijit Bhattacharjee, freelance
David Malakoff, Science
Gabriel Popkin, freelance
Beth Quill, Smithsonian
Moderator: Lauren Lipuma, EyeWorld
ROOM B
Secrets from Skillful Storytellers
What are the secrets to great scientific storytelling? Our award-winning panelists will explain some of their storytelling strategies that work — and don't work — based on their topic and medium. They'll include tips on choosing opening and closing lines, structuring information and events, and, if you really want to know, choosing the secret power food to eat while on deadline. Come and gain valuable, clever insight and prod these experts with your own questions. After all, secrets are no fun unless they're shared with everyone.
Christopher Joyce, NPR
Richard Panek, Author
Liz Szabo, USA Today
Moderator: Kasha Patel, NASA
ROOM C
Ebola: Case Study
When a new infectious disease comes along, cool heads and clear communication are a must. But when Ebola spilled from West Africa to the U.S. last fall, the public discussion quickly became loaded to the point of hysteria. This session will be a "master class" in communicating with the public during the early stages of a possibly dangerous epidemic. The panel will critically examine the basic tenets of "risk communication" as applied to infectious diseases using Ebola in the U.S. as a case study.
Joel Achenbach, Reporter, Washington Post
Scott Briscoe, Director of Communications, Association of State and Territorial Health Officers (ASTHO)
Bill Hall, News Director, U.S. Department of Health and Human Services
Moderator: Rob Taylor, Sage Analytica
Noon – 1:00 p.m. LUNCH TIME
Enjoy time to eat, mingle and network. Check out the display table information.
1:00 p.m. – 2:00 p.m. PLENARY SESSION
ROOM A
Christopher Joyce, NPR
"The past, present, and future of oral journalism"
Oral storytelling started around a campfire, in a cave, the day after Homo sapiens discovered language. It's evolved some, but not a lot. Radio allowed us to capture it, and still does, but radio's future is questionable. Oral storytelling's future is not; we'll just listen with different gadgets. But the rules won't change much– they've worked just fine for millennia.
2:15 p.m. – 3:30 p.m. BREAKOUT SESSIONS
ROOM A
Upping Your Editing Game
The best editors aren't just whip-smart and good at moving text around. They're the ones you genuinely want to work with, because they're known for inspiring confidence, bringing out the best in writers, and coming to each project with a collaborative spirit. This session will help you become one of the editing greats by learning from the best. You'll get into the minds of some of the most highly-regarded science editors in the business, and learn from them how they approach common editing problems and thorny stories. Then, you'll get practical tips from both editors and writers on how to keep your own relationships with writers strong, so both of you can give your best and produce your best work for years to come.
Tim Appenzeller, Science
Erika Engelhaupt, National Geographic
Laura Helmuth, Slate
Moderator: Rachel Gross, Slate
ROOM B
International Reporting
Even as science and environmental stories grow more global, travel budgets are getting smaller. But new opportunities for reporting overseas are emerging, and we are more connected than ever to reporters across the globe. Three representatives from organizations that support international reporting on health, environment, and other science topics will share their work and offer tips for finding stories and the funding to cover them.
Sandy Bergo, Executive Director of the Fund for Investigative Journalism
Steve Sapienza, Senior Producer, Pulitzer Center on Crisis Reporting
Melody Schreiber, Program Manager, International Reporting Project
Lyndsey Wajert, Program Manager, International Center for Journalists
Moderator: Meaghan Parker, Senior Writer/Editor, Woodrow Wilson Center and Associate Board Member, Society of Environmental Journalists
ROOM C
Freelance Finance
Freelancing is hard. Finding work, juggling assignments, deciding which pair of sweatpants to wear. On top of that, you're expected to run your own accounting department, too – something not many of us were trained for. Learning how to file taxes and manage money isn't easy to do by trial-and-error, and errors can be costly. In this session, certified financial planner and accountant Mark Stinson will go over some of the basics and best practices of planning for retirement, taxes, and other financial issues freelancers are likely to deal with. He'll be joined by freelance journalist Emily Gertz, one of the authors of the finance chapter in "The Science Writer's Handbook." Learn about how to make your business better and bring your questions.
Emily Gertz, freelance
Mark Stinson, CPA and CFP
Moderator: Michael Chorost, freelance
3:45 p.m. – 5:00 p.m. BREAKOUT SESSIONS
ROOM A
Writing Books in 2015
What's it like to be a science book author in 2015? What is the publishing market like this year? What's the best way for first-time authors to get the attention of agents and publishers? How are ebooks and Kindle Singles changing the way authors work and get paid? How do book authors manage their time?
John McQuaid, Author, Tasty: The Art and Science of What we Eat, Scribner, 2015
Matthew Shaer, Author, The Sinking of the Bounty, Atavist, 2013
Kimberly Stephens, Author, The Prodigy's Cousin, Current, in press
Moderators: Michael Chorost, freelance, and Ashley Smart, Physics Today
ROOM C
Sci-Mation
When you're writing about a complicated concept, an animation can be worth more than a thousand words. Whether you're interested in developing this skill and don't know where to start, or whether you work with animators and want to learn how to communicate your vision more effectively, this session will demonstrate some of the cool things you can do with software currently on the market. You'll also walk away with the resources you need to learn more.
Adam Cole, NPR
Adam Dylewski, American Chemical Society Digital Productions
Sean Kelley, JQI and NIST
Lauren K. Wolf, Chemical and Engineering News
Moderators: Jenny Lee, NIST, and Helen Thompson, Science News
TERRACE ROOM
Pitch Slam
For this year's pitch slam, as at last year's, freelancers will meet one-to-one with editors of their choice for about five minutes, to pitch a story idea. The editors will provide guidance on improving the pitch or the story idea itself, while suggesting possible publications if the story is not suitable for themselves. You may pitch to as many editors as you wish, one at a time, and one story idea at a time. Sign up for time slots at registration.
Mary Beth Gardiner, HHMI Bulletin
Dan Gilgoff, National Geographic News
Lila Guterman, Science News
Laura Helmuth, Slate
Mohi Kumar, Eos
David Malakoff, Science
Elizabeth Quill, Smithsonian
Laura Tangley, National Wildlife
Mitch Waldrop, Nature