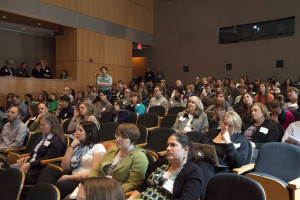 Thanks to the generosity of DCSWA members, DCSWA was able to provide scholarships to a team of early-career writers to document Professional Development Day 2016. Read on for writeups of all plenaries and panels.
The untold story of UnDark
By Emily Baumgaertner
Deborah Blum, a science journalist and director of the Knight Science Journalism Program at the Massachusetts Institute of Technology, kicked off DCSWA's 2016 Professional Development Day (PDD) with a plenary talk titled "How to start a magazine in just 10 months (what's smart and what's not)."
Breakout session: How to do great investigative journalism
By Janice Cessna
Four experienced investigators shared tips of the trade with a packed room at DCSWA's 2016 Professional Development Day. Washington Post and PBS Frontline reporter David Hoffman kicked off the panel by recounting his partnership with PBS Frontline producer Rick Young on a trio of investigative reports. During each investigation, the connections they made with key characters gave the story life – a point reiterated by each panelist's contribution to the session.
Giving voice to the voiceless in science writing
By Camille von Kaenel
Reaching out to a scientist can be as easy as googling them and clicking on an email link. Finding and talking to an indigenous leader or disadvantaged community member affected by scientific research or science-related issues takes time, logistics and persistence—resources often in short supply when you're on deadline. But a group of reporters and advocates argued that the extra step is worth it – and offered some tips on how to bring more voices into science writing.
Tweet This, Instagram That
By Bree Yanagisawa
Self-promotion is a necessary but sometimes painful enterprise. And for many, figuring out how to best use the seemingly limitless supply of social media applications available can be daunting. Luckily, three industry experts were on hand at the DCSWA's 2016 Professional Development day in Washington, D.C. to help novice and experienced science writers alike learn how to navigate the opportunity-rich but occasionally treacherous social media ocean.
How the confluence of citizen activism, science and journalism led to uncovering Flint's water disaster
By Austin Hong
During a plenary talk at DCSWA's 2016 Professional Development Day, Curt Guyette pulled back the curtain on the Flint water crisis, exposing the extent to which the city, state and even federal governments failed to ensure clean water for the Michigan community. However, Guyette also told an even larger story – one about the breakdown of democracy.
Techniques for interviewing anyone
By Lily Strelich
Chasing a compelling story, giving whistleblowers a voice or recruiting a spy—no matter what your goals are in an interview, you may face challenges getting sources to open up to you. Three professionals whose success relies on doing just that shared their unique experiences with DCSWA's 2016 Professional Development Day attendees.
Developing the power of discernment
By Nate Rabner
Science journalists often face a dilemma: Newsworthiness is key to bringing in readers, but the pursuit of newsworthiness above accuracy or context is a recipe for disaster. Minding both elements can be difficult in science journalism, where progress far more often occurs incrementally than through large, headline-grabbing leaps. In the session "Being a discerning reporter" at DCSWA's 2016 Professional Development Day, a panel of writers and editors offered tips for navigating this challenge, finding stories that matter and getting them right.
Beyond Blogs: Be a Better PIO
By Monika Joshi
An important and often underappreciated role in the science writing universe is that of the public information officer, or PIO, who acts as an intermediary between scientists and institutions, and the media and the public. The panelists for this session brought to the table experiences from PIOS in a range of positions, including within government agencies, universities, and non-profits.
Freelance writing: Exploring the alternatives
By Mikel Shybut
Newspapers and big-name magazines are notoriously hard to break into. But many smaller or more specialized publications are in constant need of talented science writers, according to panelists at a session during DCSWA's 2016 Professional Development Day.
From ideas to book
By Abree Murch
As writers and communicators, we know that feeling when a story grabs us – that nagging thought that sinks its teeth in and keeps us up at night thinking, "Someone needs to write this." This "crush" on an idea, according to Ross Yoon literary agent Anna Sproul-Latimer, is a great sign that it has commercial book potential and that you should be the one to write it.
Session descriptions assigned and edited by Gabriel Popkin.