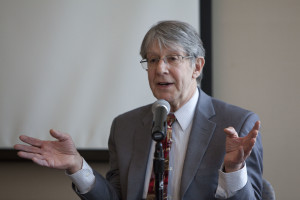 The experts agree: people still love to talk about themselves
By Lily Strelich
Chasing a compelling story, giving whistleblowers a voice or recruiting a spy—no matter what your goals are in an interview, you may face challenges getting sources to open up to you. Three professionals whose success relies on doing just that shared their unique experiences with DCSWA's 2016 Professional Development Day attendees.
Tom Devine is a legal director at the Government Accountability Project, which helps government whistleblowers "commit the truth and get away with it," as he put it. He emphasized the importance of being clear about what you can and can't do to help or protect your source. A trusting relationship is essential, and getting there may mean sharing some of your own background or why the story is important to you. Enfranchise your interviewee, brainstorm with them, and follow up, Devine advised—checking in can help sustain a trusting relationship, which may be helpful for future stories.
FBI Special Agent Robin Dreeke also underscored the importance of building trust. He headed the FBI's behavioral analysis program and honed his interview techniques recruiting enemy spies to be double agents. It may sound like something that should take action-movie bravado, but he stressed that "in order to be effective at this, you need massive amounts of humility." Dreeke's goal is to understand and validate the concerns of his interview subjects. He finds that people love to talk about themselves—and they respond positively if you engage, seek their opinions and help them feel heard.
For a look at how these techniques look in the kinds of interviews science writers are probably more familiar with, Caitlin Dickerson discussed methods she has honed as an investigative reporter at NPR. She sets up a meeting as soon as possible after contacting her source, and advises against starting off the record—since sources may never want to go back on. Save the hard questions for the end, once you've developed a rapport, Dickerson advised, and don't be afraid to phrase the same question a few different ways—you may need to push your source a little to describe their subjective experience, rather than stick to rote details. Push for clarity, be present and don't be too tight-lipped, Dickerson said: "If you're holding back, the person you're talking to is going to hold back too."
Despite their diverse backgrounds, the panelists had some shared insights. They make sure to avoid overpromising what they can do to protect sources, and they strive to be honest about the stakes. They listen critically and carefully, and repeat a subject's thoughts back to them to be sure they've gotten it right, and to make the subject feel heard. Finally, they are flexible and ready to follow the story—as Dickerson advised, "never say 'last question.'" You never know what else you'll uncover.
See all Professional Development Day 2016 session highlights