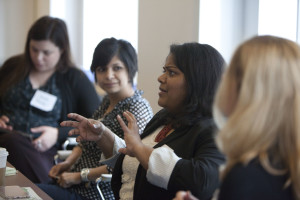 Tweet This, Instagram That
By Bree Yanagisawa
Self-promotion is a necessary but sometimes painful enterprise. And for many, figuring out how to best use the seemingly limitless supply of social media applications available can be daunting. Luckily, three industry experts were on hand at the DCSWA's 2016 Professional Development day in Washington, D.C. to help novice and experienced science writers alike learn how to navigate the opportunity-rich but occasionally treacherous social media ocean.
Sarah Zielinski, author of the Science News blog Wild Things, represented the freelance side of the industry. Zielinski advised attendees to get the most bang for their social media buck. For her, that has meant using the two most prominent social media sites – Twitter and Facebook – to garner a following and brand herself as a science writer. Both applications can be used to do a variety of useful things for science writers, including connecting with potential sources, editors, readers and scientists. Though she said it's important to keep up a regular social media schedule, Zielinski also noted that doesn't hold true all the time. For instance, when a major discovery is dominating the social media scene, trying to gain attention for something else can be pointless. "There's no point talking about koalas when everyone's talking about gravity waves," Zielinski advised.
Shefali Kulkarni, the audience engagement producer at BBC News, helps reporters take their stories to the next level of audience engagement. Another big proponent of Twitter, Kulkarni suggested useful tips to engage audiences, including a practice called "threading tweets," which allows users to tie their tweets together and direct their audience's attention better than a single stand-alone tweet can. For those overwhelmed by the thought of using social media to make connections, Kulkarni suggested thinking of the interactions instead as new ways for creating conversations. Social media is the "follow-through" to the metaphorical tennis swing that is science writing, she said; the people you engage with through social media applications can help you understand what you missed in your story.
The final panelist was Aries Keck, the social media team lead at NASA Goddard. Keck uses nearly the entire gamut of social media sources to inform and engage the public about news from NASA. She discussed how "social media can inform traditional media," citing one example in which a series of shared social media photos of NASA scientists snowed in at work led to an article in The Atlantic. Keck also stressed that posts should be engaging, which she and her team accomplish by using visual-heavy content.
See all Professional Development Day 2016 session highlights