For Immediate Release
March 17, 2016
Washington, D.C. — A news story from Science magazine and a video from NASA Goddard have won the 2015 D.C. Science Writers Association's (DCSWA) annual Newsbrief Awards. For the first time in the program's seven-year history, DCSWA offered Newsbrief Awards in two categories: Writing and Multimedia.
Most science writing awards go to complex, multipart stories, but those awards often fail to recognize one of the most challenging — and most common — tasks of the science writer: writing short. The DCSWA Newsbrief Awards exist because short, accessible, and accurate pieces make an enormous contribution to the public understanding of science.
For the 2015 award, two separate panels of distinguished science writers judged nearly 90 entries.
In the Writing category, Emily Conover wowed judges with her story "How to prevent a sheep traffic jam," which appeared on Science magazine's website. "This piece laid out what was essentially a fluid dynamics piece in clear, relatable terms," one judge said. "It also used the word 'sheeple.' How could we not be charmed by that?"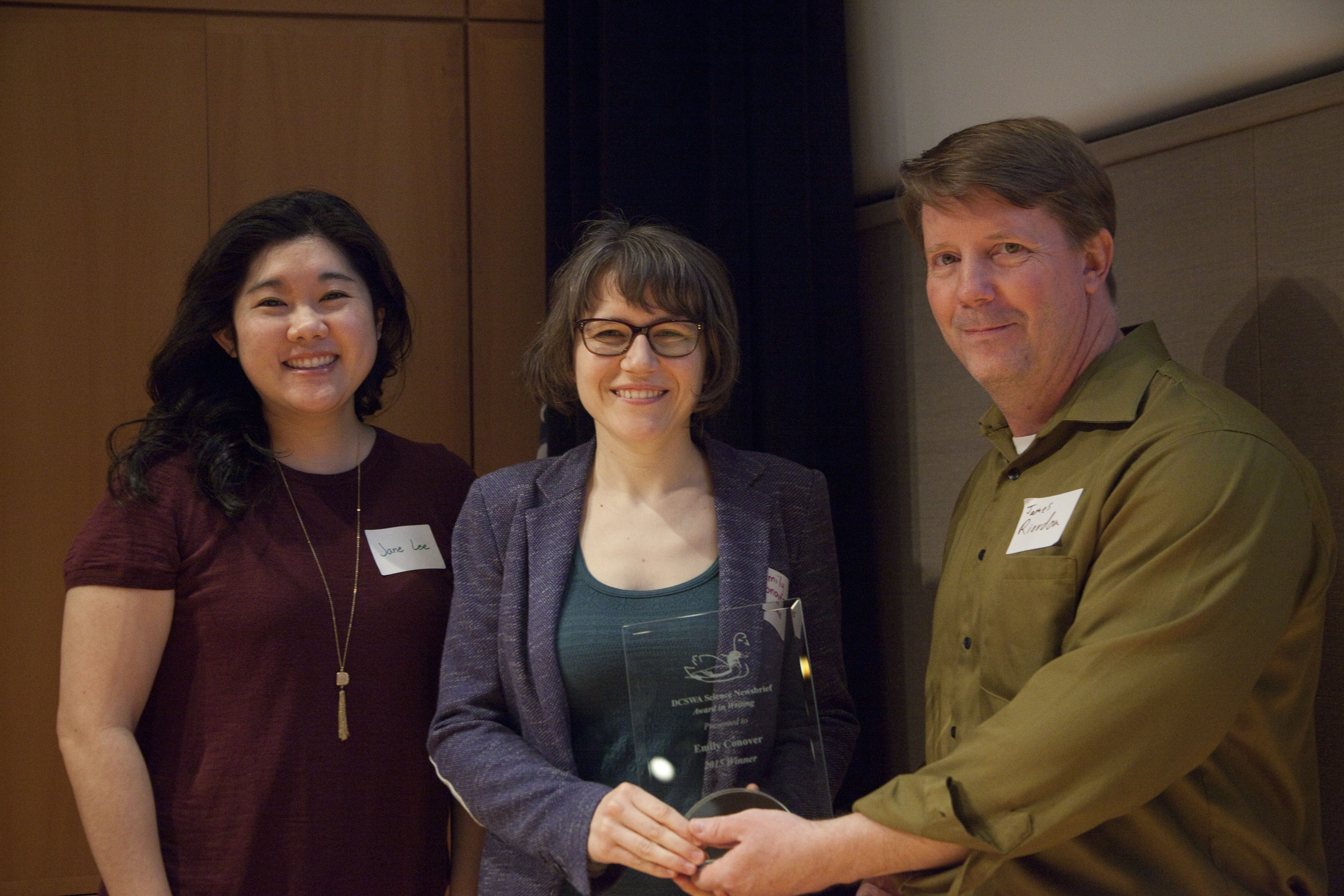 Conover is a science writer at the American Physical Society, where she covers science policy, physics research, and society news for the monthly newsletter, APS News. She wrote her winning story while she was an intern at Science. After earning her Ph.D. in physics in 2014, she got her start as a science writer through the AAAS Mass Media Fellowship. She likes finding physics in unexpected places, including barnyards.
The judges recognized two entries with honorable mentions. Tina Hesman Saey, a geneticist-turned-science writer who covers all things microscopic for Science News, wrote "For penguins, it's a matter of no taste." Emily Underwood, who got hooked on science writing between stints as an adventure guide out West, is now the staff neuroscience writer for Science. She penned "Rats forsake chocolate to save a drowning companion."
In the Multimedia category, Joy Ng, Greg Shirah, and Jefferson Beck won for the video "What are the chances of another Katrina?" The winners are part of NASA Goddard Multimedia, a team who communicates NASA's new science results and mission highlights through a variety of platforms.
Ng, a multimedia producer reporting on Earth science, produces a variety of content, from short documentaries to Instagram videos to to GIFs. Shirah, who leads the development of Earth science-related scientific visualizations, has worked for NASA since 1984. Beck, an Earth science video producer, creates videos that highlight the "amazing Earth science the agency does from the ground, air, and space."
Said one of the judges: "We liked that it was lively. In a contest celebrating brevity, I particularly appreciated how compact this video was, with all the information you need in less than two minutes, without feeling rushed or overstuffed."
An honorable mention went to Sophia Cai, Sean Parsons, and Noel Waghorn for "Why don't we recycle Styrofoam?", part of Chemical & Engineering News' "Speaking of Chemistry" video series. Associate editor Cai has a background in neuroscience. Senior producer Parsons is the group's chief videographer and an animator. Lead writer/producer Noel Waghorn works on many popular C&EN and ACS video series, and was a broadcast journalist for 10 years before finding his calling in science communications.
Steve Baragona, an award-winning multimedia journalist covering science, the environment, and health for Voice of America, took home an honorable mention for the video "Scientists study slums for signs of spreading superbugs." Baragona researched molecular biology and infectious diseases for eight years until he decided "writing about science was more fun than doing it."
An award ceremony will take place on Saturday, April 2, during DCSWA's annual Professional Development Day at the American Association for Advancement of Science building in Washington, D.C. Each winning team will receive $300 and a trophy; those awarded honorable mentions will receive certificates.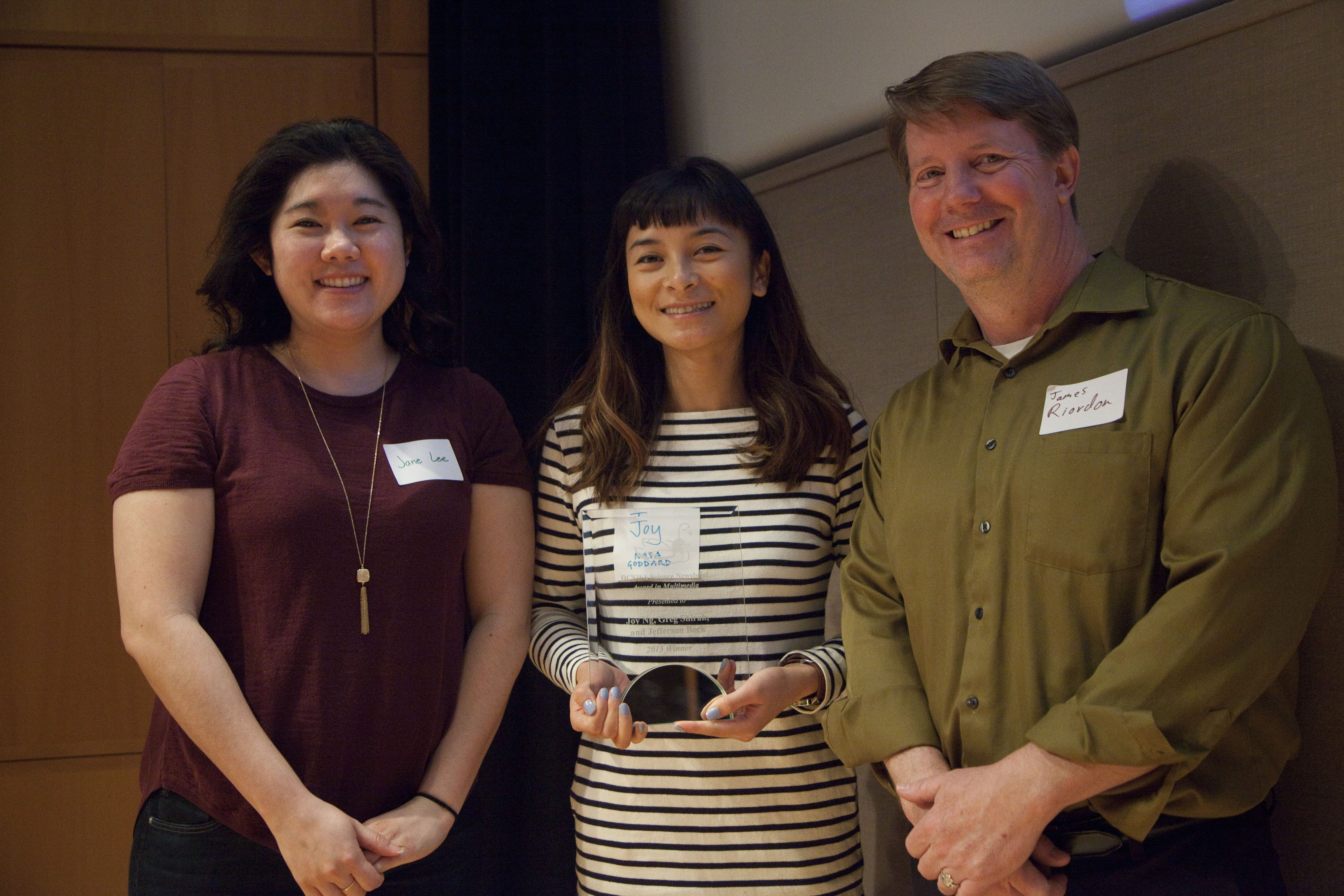 DCSWA members were eligible to submit entries published between January 1 and December 31, 2015. The D.C. Science Writers Association is an organization of about 500 science reporters, editors, authors, and public information officers based in the national capital area. Details on how to enter the 2016 Newsbrief Awards will appear on the DCSWA website by the end of the year.
Contact: Christine Dell'Amore
rueparadis@gmail.com
newsbriefaward@gmail.com