Washington, D.C.— A news story from Science Magazine and a video from NASA Goddard have won the 2016 D.C. Science Writers Association's (DCSWA) annual Newsbrief Awards.
Longform journalism often gets our accolades, but short pieces are the true workhorses of science communication. In the spirit of recognizing these unsung works of excellence, we have been offering the Newsbrief Awards since 2009. In 2015, we added a Multimedia category.
For the 2016 award, two separate panels of distinguished science writers judged more than 70 entries.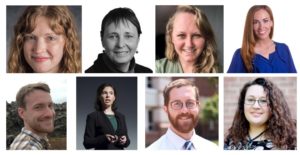 In the Writing category, Kelly Servick won for her online story "Tear your knee? Maybe your nose can help it heal." Said one judge: "This piece combines clear, concise writing with personality to explain a medical study—not the easiest topic to do well."
Kelly is a staff writer at Science Magazine, where she writes mostly about biomedicine and biotechnology. She came to science writing through the UC Santa Cruz graduate program. Outside of work, she says, she conducts poorly controlled kitchen experiments, often involving chocolate or caramel.
The judges recognized two Writing entries with honorable mentions. Rachael Lallensack, an intern at Science and soon-to-be intern at Nature, wrote "Watch this tiny robot do a backflip." Rachael graduated from the University of Wisconsin-Madison in 2016 with bachelor's degrees in journalism and environmental studies. Susan Milius, a staff writer covering evolutionary and organismal biology for Science News, wrote "Diversity of indoor insects, spiders adds to life's luxuries in high-income neighborhoods."
In the Multimedia category, Genna Duberstein and Brian Monroe won for their video "The Electric Wind of Venus." They are part of the Office of Communications at NASA's Goddard Space Flight Center and are employed by the University Space Research Association.
This video "combines personable narration and exquisite animation to tackle a simple question—why isn't Venus's atmosphere steamy? The answer isn't so simple—and in the hands of less canny storytellers, the explanation could easily become inscrutable," one judge says.
Brian, an artist and animator with the Conceptual Image Lab, creates animations ranging from stylized 2D graphical pieces to realistic 3D renderings that bring to life the science results and concepts behind NASA missions.
Genna is lead multimedia producer for Heliophysics, the NASA division that studies the sun and its influence throughout the solar system. She tells the stories of research and missions, creating videos and graphics as well as leading the heliophysics multimedia team.
An honorable mention in the Multimedia category went to Julia Griffin, a producer for PBS NewsHour, for "Why are peacocks' tail feathers so enchanting?" Another went to American Chemical Society senior video producer Elaine Seward (winner of the 2014 Newsbrief Award) and freelance writer Sam Lemonick for an episode of ACS' Reactions YouTube series entitled "Does gum really stay in your stomach for 7 years?"
An award ceremony will take place on Saturday, April 8, during DCSWA's annual Professional Development Day at the American Association for Advancement of Science building in Washington, D.C. Each winning team will receive $300 and a trophy; those awarded honorable mentions will receive certificates.
DCSWA members were eligible to submit entries published between January 1 and December 31, 2016. The D.C. Science Writers Association is an organization of more than 500 science reporters, editors, authors, and public information officers based in the national capital area. Details on how to enter the 2017 Newsbrief Award will appear on the DCSWA website by the end of the year.
###
Contact: Christine Dell'Amore
rueparadis@gmail.com
newsbriefaward@gmail.com