FINALLY,  A SCIENCE COMEDY NIGHT IN WASHINGTON, DC!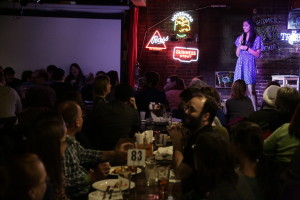 Hear comics, scientists, science writers, and science enthusiasts perform funny science-themed jokes, stories, songs, and whatever else they can come up with that will make you laugh! The show occurs quarterly and sells out.
"Like" the Facebook page to stay up-to-date about upcoming shows and tickets. If you're interested in performing, email comedy@kashapatel.com. Many performers and attendees are from the DCSWA community.
The sold-out shows include award-winning science authors, medical journalists, veteran storytellers, science comedians, and comedians who have appeared on Comedy Central, Last Comic Standing, and Conan. The event has been briefly mentioned in The Washington Post.
About the host:
Kasha Patel is the producer, host, and a performer of Science Comedy night and DCSWA President for 2016-2017. She works as a science writer during the day and performs stand-up comedy at night. She has performed around the country including in New York City, Chicago, Boston, DC, San Francisco, and smaller cities that would make people ask, "Why did she perform there?". She enjoys reading the news for the sole purpose of writing jokes about it. She can be contacted at comedy@kashapatel.com.