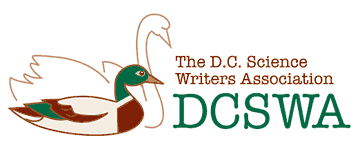 With around 500 members, DCSWA is the largest independent regional science writing association in the country. Its members include writers and editors from nearly all the major news outlets in the Washington, D.C. area, public information officers from agencies and institutions, and freelancers.
A truly regional organization, DCSWA members hail from as far south as North Carolina and as far north as Baltimore. Whether they are journalists or other kinds of science communicators, all are interested in providing good information on science to the media and the public. DCSWA maintains good relations with but is not a chapter of the National Association of Science Writers.
Much of DCSWA's activity focuses around events that bring science writers and communicators together for socializing, networking and professional development. Our biggest event is our annual Professional Development Day, typically held in early April or late March. This is a full-day event with workshops designed for journalists, PIOs, book authors and freelancers. We typically have one or two plenary speakers, usually nationally known science communicators. There is always a pitch slam with editors, and plenty of time for networking. The latest professional development day was held on March 28, 2015. See session reports from this event.
We also organize events throughout the year. These include:
Science-related field trips to places like the Baltimore Aquarium, the Chesapeake Bay, or the National Observatory.
A popular series of Science Cafes featuring speakers from the greater DC science community.
Happy hours at local bars, sometimes in conjunction with other local scientific or journalistic organizations.
Baseball games and science comedy nights!
An annual holiday party.
We host an annual newsbrief award to recognize excellence in short-form science reporting, which is rarely eligible for major science writing awards.
We also maintain a job board with notices about D.C.-area work for science writers and a freelancer list that we hope will connect DCSWA members with editors and other people looking for professional science communicators, writers, and multimedia or social media experts.
Over the years we've become a corporation in Maryland and an entity recognized by the Internal Revenue Service. We have a board of directors. We have bona fide bylaws and official tax status: We're a 501(c)6 organization, which means we're tax exempt, but not a charity. Ask your tax preparer whether you can deduct DCSWA dues as a business expense. Or better yet, ask your employer – if you have one — to invest in your professional development by paying the $25 annual dues.
Feel free to contact us with any questions.
If you want to join DCSWA, we welcome you, and look forward to getting to know you!

History of DCSWA

In the mid-1980s, Richard Harris and Joe Palca, two science reporters, began talking to each other about the need to create a science writing community in Washington, D.C.
Harris was at National Public Radio; Palca was then at Nature. Though both were members of the National Association of Science Writers, there was no local association where they could discuss with colleagues the reporting challenges they faced covering science in the nation's capital, and science policy issues. They were also looking for better ways to learn about scientific developments in a wide range of fields without having to report a specific story.
In 1987, Harris and Palca, along with Joanne Silberner of U.S. News & World Report and Larry Thompson of the Washington Post, established the D.C. Science Writers Association (DCSWA.)