Professional Development Day, a full-day professional development event for science writers, has been DCSWA's signature event since 2006. Every spring, more than 100 science reporters, PIOs, editors, video and radio producers and freelancers come together to improve their craft.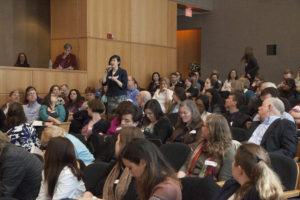 PDD features plenary talks by noted science journalists and multimedia producers; panel discussions on relevant issues in science communication; and hands-on workshops where DCSWA members can learn new techniques and improve their existing science writing skills. Every year at PDD, DCSWA announces the winners for the Newsbrief Award for Short Science Journalism. DCSWA also offers scholarships to to early-career or other science writers wishing to attend PDD for whom paying the registration fee would be a hardship. Read on to find out more!
Upcoming PDDs
Professional Development Day 2018 – Saturday, April 7, 2017, AAAS headquarters
The PDD 2018 program and opening of registration will be announced in March. Stay tuned!
---
Past PDD agendas and highlights
Professional Development Day 2017 – Saturday, April 8, 2017, AAAS headquarters
Professional Development Day 2016 – Saturday, April 2, 2016, AAAS headquarters
Professional Development Day 2015 – Saturday, March 28, 2015, American Geophysical Union headquarters
Professional Development Day 2014 – Saturday, April 12, 2014, American Geophysical Union headquarters
Professional Development Day 2013
Professional Development Day 2012 – Saturday, April 21, 2012, AAAS headquarters
Professional Development Day 2009 – Saturday, April 18, 2009, AAAS headquarters