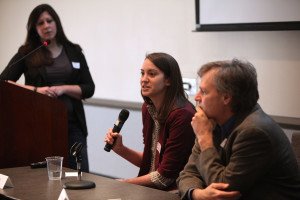 By Kristin Kokal
During the first breakout session of DCSWA's Professional Development Day, editors from Science and Smithsonian magazines and two freelance writers discussed the art of developing and pitching science stories. Each panelist mined his or her experience to provide critical do's and don'ts to aspiring freelancers.
Some of the most common tips included knowing your audience, connecting a story idea to the big picture, showing off your writing ability, doing some pre-reporting to prove that you have a good story, showing why your angle is different or new, and creating a storyline with characters, visuals, and a resolution. As David Malakoff, editor at Science, insisted, "Show me the story!" In other words, write the pitch as though you're writing the story, not telling the editor what the story will be.
Yudhijit Bhattacharjee, a freelance science writer, noted that successful pitches are interesting not only for the reader but are for the writer. He also pointed out that some pre-reporting is necessary in order to ensure that you have a good story, but investing too much time without a guaranteed assignment comes with a risk: You may end up spending a lot of time on a story that never gets published.
The panelists showed attendees a few model pitches. Beth Quill, editor for Smithsonian, highlighted one successful pitch's strengths and structure. The first paragraph gave a strong visual, allowing the writer to show off her storytelling skills. The second paragraph talked about the main scientific question the story would address, and gave some science background. The third paragraph gave a detailed explanation of why the story was important. The fourth paragraph gave context, connecting the story to the bigger picture. The last paragraph was more informal, as the writer provided a timeline for the article, how much it would cost (since it was a story that involved travel outside the U.S.), what she would be doing, and whom she would be interviewing.
Quill also pointed out that a great first paragraph, or writing your first paragraph in the way you will write the entire article, is a great way to show your writing skills as well as giving the editor an introduction to both your writing style and story at the same time.
Freelancers Bhattacharjee and Gabriel Popkin added other tips, such as including a tagline with your pitch, adding a strong human element, selling yourself (i.e., why are you the right person to write this article?), doing your homework on the editor and publication, making your contact information easy for the editor to find, sending your pitch in early if it's time-sensitive, and thanking the editor for reading your pitch.
But you get your best chance at getting your story picked up by making your story interesting and new to an editor who may see dozens of pitches every week. Approach the topic in a unique way; give it a different perspective, be it weird or funny, panelists advised. No pitch gets anywhere with her if it can't do that, said Quill. "Surprise me!"