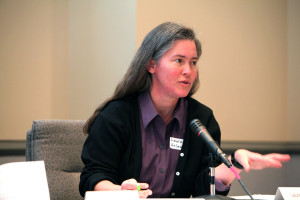 By
Alexandra Branscombe
An editor works behind the scenes, taking all of the blame but none of the credit. This is one of the many characteristics of a good editor, according to a panel of experienced science editors at the DCSWA 2015 Professional Development Day session "Upping Your Editing Game." The panel gave tips and best-practice advice to both new and experienced editors.
Getting started
There are many paths to becoming a successful editor, but most start out as writers, as was the case with Erika Engelhaupt, now online editor for National Geographic. "The dirty little secret is that most editors learn to do it on the fly," she said.
The best way to break into editing as a writer, said Engelhaupt, is to edit a colleague or friend who needs help, or work at a magazine with a small staff where everybody does a little of everything. This is a great chance to learn new skills, and to find out if you really like or hate editing, she said.
Don't be obnoxious
"The golden rule is to treat others as you would want to be treated, and edit others as you would want to be edited," Engelhaupt said.
In order to follow this rule, there are a number of steps a good editor should follow. Don't be obnoxious if you don't have to be, advised Tim Appenzeller, chief news editor at Science. "The truth about editing is that you are going to annoy people; they might be grateful at the end, but along the way there is going to be some tension," he said.
To avoid, or at least diminish, this tension, editors should answer their emails, not waste writer's time by sitting on pitches, and know when to let go and stop editing, Appenzeller said. By following these guiding principles, editors will find that writers want to work with them, and they will build trusting relationships.
Trust
Trust is at the core of the writer-editor relationship. The editor trusts the writer to do the work producing the story, but an editor's job is much more complex, explained the panel. Editors must be moving behind the scenes.
Part of an editor's job is to protect his or her writers, said Laura Helmuth, the science and health editor at Slate. An editor must give all the credit to the writer, but be ready to take the blame when something goes wrong with a story, she said.
The editor is the unseen mover: selling stories up the chain of command or advocating for it to the social media team, added Engelhaupt. "You'll know that you are doing a good job when writers come back to you," she said. "When they keep improving over time, that means you have helped them get a little bit stronger."