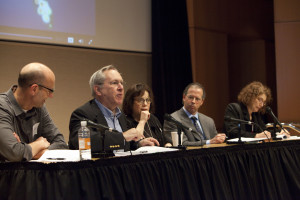 Breakout session: How to do great investigative journalism
By Janice Cessna
Four experienced investigators shared tips of the trade with a packed room at DCSWA's 2016 Professional Development Day. Washington Post and PBS Frontline reporter David Hoffman kicked off the panel by recounting his partnership with PBS Frontline producer Rick Young on a trio of investigative reports. During each investigation, the connections the duo made with key characters gave the story life – a point reiterated by each panelist in the session.
In MIT Knight Science Journalism Program director Deborah Blum's experience, the best investigative stories come from characters who often possess the best tips, and finding them is like a dartboard. Start by querying people on the periphery—those willing to talk even if they don't necessarily possess the most compelling details, Blum advised. Then work their connections, then their connections' connections, zooming in closer and closer to the central character(s) who occupy the "bull's eye."
During one investigation in which Blum used this process, she eventually received top-secret documents from a bull's eye source that gave life to her story. Whether she obtains information through a source or via publicly accessible mechanisms such as a Freedom of Information Act (FOIA) request, Blum reviews the information for discrepancies and patterns. "What's the pattern I'm seeing that no one else is?" she asks herself.
The panelists also listed top investigative resources, beginning with FOIA. Panel moderator and American University scholar-in-residence Louise Lief suggested that because the FOIA process can be lengthy and tricky, those new to the process should initially file an experimental inquiry to familiarize themselves. Blum reminded everyone to be prepared for long delays, as agencies do not respond in a timely manner, especially if they intend to impede your story. "They know you're on a deadline and they can run your clock out," she said.
However, there are also government groups that work symbiotically with journalists to publicize issues. Investigator Doug Pasternak explained that the U.S. House of Representatives Oversight Committee on Science, Space and Technology frequently provides journalists report and information access and receives their assistance with research and interviewing sources. Pasternak also recommended cultivating relationships within the Government Accountability Office, as its staff typically has advance access to reports prior to public release, and often uses this period to clue in journalists.
The panelists collectively provided additional pointers. Leaks from organizations with issues or skeletons often come from the bitter, disillusioned staff employed within them. Relationships with watchdog and advocacy groups often yield tips. Sometimes it can take time for sources to open up, so cultivate and maintain relationships over the long term. And sometimes honesty opens up unlikely avenues to a story. "Just keep knocking on the door," said Young. "Be straightforward about what the story is about and what you want to tell."
The long-term nature of developing relationships and finding sources is reflected in the overall lengthy process of substantive investigative journalism. Thus, many journalists may find it's possible to work on such stories only if they are maintained on the workload periphery, and nurtured periodically as things evolve, versus working exclusively on them for an extended period.
And all the investigation in the world won't get the public's attention unless it's packaged into a powerful story that brings the issue to a personal level so that viewers, or readers, can relate, Hoffman reminded the audience. At its best, he said, investigative journalism is a combination of sleuthing, science and narrative. "I firmly believe part of our job is as a storyteller," Hoffman said.
All panelists agreed that the human element is essential. As Young put it: "You need to find characters— those people who can dramatize what's going on."
Additional Suggested Resources
Muckrock: offers FOIA resources, including tracking inquiries and adding your FOIA document results to their collection
Knight Science Journalism Program at MIT: Through the Resources tab, provides journalism tools and tips, including links to approximately 30 science databases
EPA Toxics Release Inventory (TRI): Database of reports filed by chemical companies, searchable by state
Investigative Reporters & Editors: Resource Center with reporting tip sheets, templates for filing FOIA requests, resource bookstore and more
Government agencies: Some publicly post documents directly on their websites
Finding funds for international reporting: Session summary from DCSWA's 2015 Professional Development Day, including links to potential funding sources, some of which are specifically geared toward investigative subjects