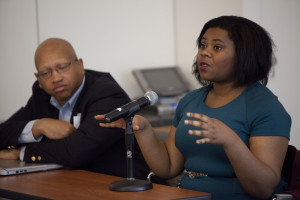 Amplifying the voices that need it most
By Camille von Kaenel
Reaching out to a scientist can be as easy as googling them and clicking on an email link. Finding and talking to an indigenous leader or disadvantaged community member affected by scientific research or science-related issues takes time, logistics and persistence—resources often in short supply when you're on deadline.
But a group of reporters and advocates argued that the extra step is worth it – and offered some tips on how to bring more voices into science writing.
The ongoing water crisis in Flint, Michigan, which has also directed attention to other communities affected by pollution, made the discussion at the D.C. Science Writer's Association 2016 Professional Development Day, titled "Giving Voice to the Voiceless", particularly topical. Curt Guyette, the investigative reporter for the ACLU of Michigan who broke the Flint story, said he worked in unison with the city's residents, who had been raising concerns about contaminated water long before the media started paying attention.
"They're not voiceless," Guyette said. "It's just whether people are listening or not, or whether people are willing to amplify them."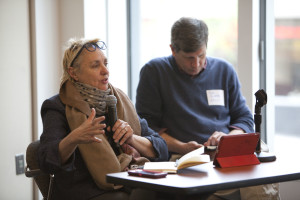 Coimbra Sirica, the vice president for global health and science at the public relations firm Burness Communications, acknowledged that it can be hard to reach the indigenous people, whose stories her firm tries to promote. To connect with indigenous people for interviews, she recommended catching them on the sidelines of major conferences that bring them to the U.S., or linking to them through researchers in the field.
Recognizing concerns reporters may come across as advocates if they promote the stories of indigenous people, Sirica told the audience that science writers have an advantage, in that they have a reputation for authority and objectivity. "You understand the evidence that supports what indigenous people are trying to tell the world," she said.
It is not hard to find places where science intersects with inequality, panelists said. Reporters should look for places with similar hazard profiles to Flint and start talking to the residents, said Sacoby Wilson, an assistant professor of public health at the University of Maryland, College Park. Community-based groups or environmental justice research centers, or networks like the EPA's National Environmental Justice Advisory Council, can help reporters get in touch with people on the ground, who can be as knowledgeable as scientists about the pollution affecting their communities, he said.
"Community members can be potential experts," Wilson said. "Their data is their lived experience."
But, he added, science writers play a critical role in turning data into stories. "Without stories, the data means nothing."
Marissa Evans, a state health policy reporter at CQ Roll Call, reminded the audience that it matters who they choose to quote or which federal agencies they choose to profile.
"Who we deem as experts are the people who are readers will deem as experts," she said. "And if it is always older white men, that's a problem."
See all Professional Development Day 2016 session highlights