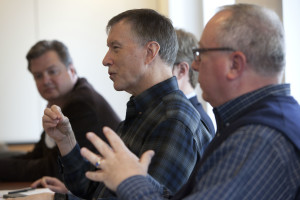 Beyond Blogs: Be a Better PIO
By Monika Joshi
An important but sometimes underappreciated role in the science writing universe is that of the public information officer, or PIO, who acts as an intermediary between scientists and institutions, and the media and the public. The panelists for this session brought to the table experiences from PIOs in a range of positions, including within government agencies, universities, and non-profits.
Rick Borchelt, director of the Office for Communications and Public Affairs at the Department of Energy's Office of Science, kicked off the session with what he called the number one question PIOs should ask themselves: Who is the audience you are serving?
The panelists stressed that a PIO's job is to advocate on behalf of the organization and help tell its story as well as possible to all stakeholders. This can mean looking beyond the media relations aspect of writing press releases, and focusing efforts on communicating at other levels, such as with Congress and the research community. "People are paying for [your organization's] research with tax money," Borchelt said. "They deserve to see the information they are paying for."
The panelists shared numerous tips for increasing the chance of getting work from PIOs' institutions covered, including:
Find the offbeat stories not already being covered by mainstream media.
Follow what's trending on TEDTalks. This is often where reporters and news organizations are tapping in.
Be immersed in what your colleagues and scientists are doing, even before they are at the point of being published.
Send targeted pitches to reporters, but only after the official press release has been put out. (There was consensus on the panel that it is unethical to be exclusive about which reporters you inform about a press release.)
Be cute, photogenic and energetic in how you craft your pitches, stories and social media content.
Jeff Cronin, communications director at the Center for Science in the Public Interest, emphasized how social media could be used to push for change. He gave an example of how his organization advocated to get trans fat out of the food supply by surveying and revealing nutrition information about restaurants around the country. After the organization tweeted that Long John Silver's had the "worst restaurant meal in America" (33 grams of trans fat per meal!), the chain pledged to eliminate trans fat from their menu.
Mitch Waldrop, features editor at Nature and former PIO, cautioned against giving reporters too much access, citing an example from a personal experience. Once, while working at the National Science Foundation, he allowed a reporter to escort himself out after meeting with him. The reporter decided to snoop around and ended up outside the offices of executive staffers.
On the subject of working with reporters and helping them make stories accurate, Matt Wright, science writer at University of Maryland, College Park, recommended "treat[ing] the interview as less of an interrogation and more of a conversation. Ask up-front if you'll be able to see the story or quotes before it is published."
A unifying theme of the session was to "think like a journalist, even as a PIO," as Wright put it. The speakers agreed that the skills reporters develop—being cautious, being skeptical, trusting but verifying, taking more notes than you need—are just as useful for PIOs.
No matter where in science communications you end up, stay a journalist "under the helmet," Wright said.
See all Professional Development Day 2016 session highlights